The Worlds 2014 – Playing in the Heart of Europe

Actual number of registered players: 108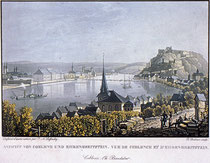 We proudly announce "The Worlds 2014" to be held in Germany!
The convention will be from August 15th to August 17th, 2014 in the Rhein-Mosel-Halle in Koblenz, Germany.
Several rule systems are already defined to be played, lots of other game systems will be possible.

Until now the following systems are agreed to be played:
DBMM (15mm)
Field of Glory-AM (15mm)
Field of Glory-R (15mm)
Field of Glory-N (15mm)
WAB (28mm)
SAGA (28mm)
Other rule systems can be played if the tournament will have at least 8 players and we find somebody to run it.

As we have full 3 days, we plan to have for the 'big' systems (FoG, DBMM) to have 6 games, 2 games per day.

We also plan to have vendors coming to the convention and will have demonstration games as well.
Planned demonstration and participation games will be announced here.
The venue id open for visitors. The entry is free for tournament players, for all others it will be 2 € per day (3-day-ticket 5 €).
On Saturday evening we are offering a sightseeing tour (roughly 2 hours) around Koblenz. You can register fot the sightseeing tour when registering for a tournament. You will find 2 PayPal-Buttons there, one for the tournament only, one for the tournament incl. the sightseeing tour.
The fee for the tour is 5 €.
After the sightseeing tour there will be an aftershow party on the city beach of koblenz.
We are also in contact with local press and television.

Contact will be Martin Wirt (martin[at]fieldofglory.de)
We hope to have the greatest historical wargaming convention we ever had in Germany!
There is one point that needs to be clarified: Due to the legal situation in Germany, we cannot have a Flames of War-tournament. We hope that you all understand this. We don't want to risk the convention to be closed by government due to the legal restrictions that we have in Germany and hope you all accept this.
(The picture is public domain, taken over from wikimedia commons.)