The Worlds 2014 - Aftershow party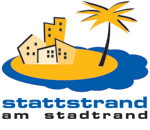 On saturday night, after the sightseeing tour, we invite all players of the worlds to an aftershow party at the city beach of koblenz. Enjoy the beach at the mosel river, have drink and talk to the other players from all over the world.
In august we expect the whether to be perfect for the beach. Anyway, even in case the whether proofs unfriendly, there is a huge pavilion to protect us from rain, so the party will take place regardless of whether conditions.
Hope to see you there!
Usage of the fotos with kind permission of stattstrand koblenz